Huge blow for Redskins as QB Smith breaks tibia and fibula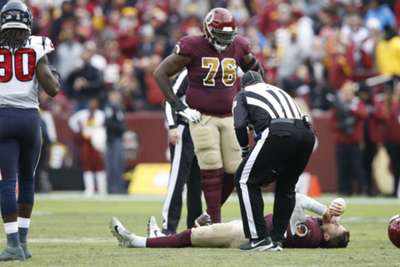 Washington Redskins quarterback Alex Smith broke the tibia and fibula in his right leg during Sunday's loss to the Houston Texans, it has been confirmed.
Smith, in his first year since moving from the Kansas City Chiefs, was hurt while being sacked midway through the third quarter by J.J. Watt and Kareem Jackson.
The QB was carted from the field with his right leg in a brace and head coach Jay Gruden confirmed the devastating news in his post-match news conference.
Smith, 34, was replaced by Colt McCoy, who threw a touchdown pass to Jordan Reed on the ensuing series but could not save the Redskins from dropping to 6-4 on the season after a 23-21 defeat.
Watching on at FedExField was former Redskins QB Joe Theismann, who suffered the same injury exactly 33 years ago to the day against the New York Giants at the age of 36 and never played again.