Donald Trump: Kneeling players should be suspended without pay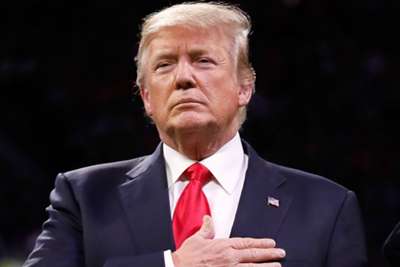 United States president Donald Trump has suggested his own penalties for the NFL's national anthem protests, calling for kneeling players to be suspended without pay.
On Thursday, the NFL and National Football League Players Association (NFLPA) released a joint statement saying both sides were unable to reach a resolution over the national anthem policy.
The NFL agreed to temporarily freeze the league's new anthem policy after the NFLPA filed a grievance against the competition after the latter passed a new rule that stated teams would be fined if they did not stand for the national anthem.
And outspoken USA leader Trump joined the ongoing debate via Twitter on Friday.
"The NFL National Anthem Debate is alive and well again – can't believe it! Isn't it in contract that players must stand at attention, hand on heart?" Trump wrote on Twitter. 
"The $40,000,000 Commissioner must now make a stand. First time kneeling, out for game. Second time kneeling, out for season/no pay!"
The current policy, which the NFL attempted to implement in May, allows players to stay in the locker room if they do not wish to come out for the national anthem. 
In addition, if players do decide to be on the field during the anthem, they must stand, and if they take a knee, then the teams and players could face penalties and fines.
There is no rule which says a player will be suspended for violating the new policy.