Steelers´ Antonio Brown advises Le´Veon Bell to ´show up´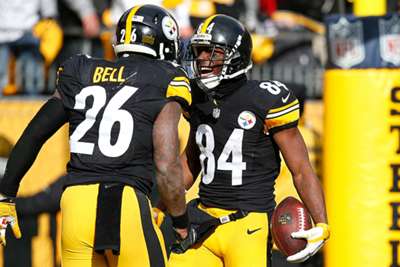 Antonio Brown has advised Pittsburgh Steelers team-mate Le'Veon Bell to consider the repercussions of sitting out in anger amid a contract wrangle.
For the second year running, Bell is set for lengthy negotiations with the Steelers and has not signed for the team before their organised team activities (OTAs).
Bell did not report with the Steelers until September in 2017, but Brown, who has had his own contract disputes with Pittsburgh, wants his team-mate to return earlier this year.
"The first rule of getting better is showing up," Brown said, as reported by ESPN. "You can't make anything better without showing up.
"I think if he shows up, [he can] make everyone understand where he wants to be. He wants to be here not just for this year but years to come - come out here and show up. Show up and get better and show guys you're serious."
The Steelers used the franchise tag on Bell for the second straight year, which has prompted the rusher to repeat his stance from 2017, when he sat out off-season workouts and training camp until he signed the tender just before the start of the regular season.
Despite Bell's absence from the field, Brown knows his team-mate is still putting in the work to be prepared for the upcoming season.
"We all know Le'Veon is a competitor and is highly conditioned, always taking care of his body and putting himself in high condition," Brown said.
"The one thing about Le'Veon that makes him special is he takes his game seriously.
"It's never a question or doubt about his game, is he physically ready? I know when he walks in the building, whenever he shows up, you know what you're going to get: you're going to get a guy who's ready to take 400 to 500 carries, a guy who's willing to run and catch the ball, a guy who can do it all."
Bell, 26, finished with 321 carries for 1,291 yards and nine touchdowns in 15 games last season. His one-year tag is believed to be worth $14.54million, up from the $12.12m he earned under the tag last season.
Bell and the Steelers have until July 16 to reach a long-term deal or move forward with the tag.