Brady legacy secure without sixth Super Bowl - Umenyiora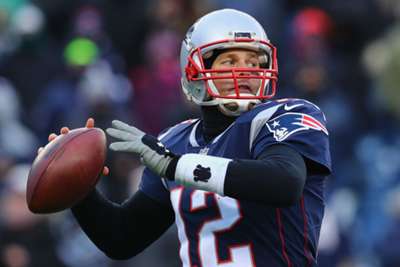 Tom Brady is three wins away from a sixth Super Bowl title, but his legacy is already secure, according to Osi Umenyiora.
Brady clinched the fifth Lombardi Trophy of his career last season, becoming the first quarterback to do so, as he led the New England Patriots to the greatest comeback in Super Bowl history, guiding them back from 28-3 down to a 34-28 victory in Houston.
Despite turning 40, Brady shows no signs of slowing down and is the frontrunner for the MVP award, with the Patriots again very much in the mix for an appearance in the season-ending showpiece.
Though he has now surpassed his idol and San Francisco 49ers legend Joe Montana, who won four Super Bowl titles, debate still remains as to who is the greatest quarterback of all time, Montana having never lost on the biggest stage while Brady has tasted defeat twice.
But former defensive end Umenyiora, who was on both of the New York Giants teams that inflicted those losses on Brady and the Patriots, does not believe another title is necessary for the signal-caller's place in history.
He told Omnisport: "There's an argument to be made that he could be called the greatest quarterback of all time, five-time Super Bowl champion, an outstanding person, outstanding player, so he's left his legacy, he's going to be remembered for sure."
Asked to pick a winner of Super Bowl LII in Minnesota on February 4, Umenyiora stayed firmly on the fence.
"Too tough to call right now," he said. "Obviously you put New England in there because they're always in the mix but on the NFC side you have Atlanta [Falcons], you have New Orleans [Saints], you have the Minnesota Vikings.
"There are just entirely too many teams to predict who's going to be there right now."