Theismann: Smith leg break ´heart-wrenching´ to watch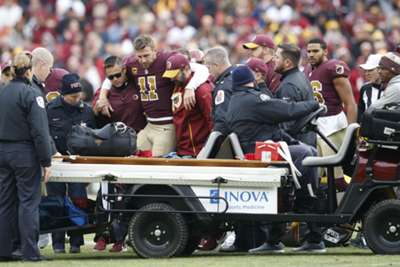 Joe Theismann described Alex Smith's injury as "heart-wrenching" after watching the Washington Redskins quarterback suffer a double-leg break 33 years to the day of his own career-ending injury.
Smith sustained a broken tibia and fibula on a third-quarter sack in the Redskins' 23-21 defeat to the Houston Texans on Sunday, bringing up painful memories for Washington legend Theismann.
Theismann, who led the Redskins to victory in Super Bowl XVII at the end of the 1982 season, sustained a career-ending compound fracture on November 18, 1985 on a sack by New York Giants linebacker Lawrence Taylor.
He was in the stands at FedExField as Smith went down in eerily similar circumstances and told NBC Sports Washington afterwards: "It's heart-wrenching, I feel terrible for Alex, I got hurt in the ninth game of the 1985 [season] 33 years ago today.
"If it happened on another day I'd feel terrible as it was but having it happen on this day in this particular period of time, it was horrible.
"I saw him go down in the pile and I saw everybody start to get frantic about it and then there was one shot where he was lying there and I saw his leg and I turned to my wife and said 'it's the same thing that happened to me'. I was absolutely shocked and stunned. I feel so bad for Alex.
"There's an age factor too when you get hurt at this age, that's the other thing you think about. You think about where this football team is going, we're in the hunt, he's the captain of the ship and we're in the hunt and now all of a sudden, [backup] Colt's [McCoy] in a role to take over."
Speaking in his post-game media conference, Redskins coach Jay Gruden said: "Alex has had a great career, obviously, without a doubt. But when you have an injury like that, it's more heartbreaking than it is physical.
"Just breaks your heart because this is what he loves to do, loves to lead this team, loves to be with the guys, and now the season is over and he has a long way back. It's just hard to watch that happen to any athlete."
McCoy came in for Smith and threw for 54 yards and a touchdown but could not lead the Redskins to victory as they dropped to 6-4 on the season but still in the lead of the NFC East going into their Thanksgiving clash with the Dallas Cowboys.
"I'm a big firm believer in Colt McCoy's talent," Gruden added. "This is the opportunity of a lifetime for him. I know he would like it in different circumstances."