Chargers tight end Henry suffers torn ACL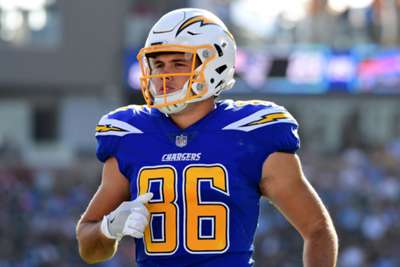 Los Angeles Chargers tight end Hunter Henry has torn his anterior cruciate ligament and is set to miss the 2018 NFL season.
Henry suffered the non-contact injury while running downfield in a drill during OTAs, according to ESPN. The 23-year-old will have a second evaluation on Wednesday.
Henry caught 45 passes for 579 yards and four touchdowns in 14 games last season.
The 23-year-old has been a dangerous red-zone target for the Charges throughout his two-year career.
He hauled in eight touchdown passes and registered 478 receiving yards as a rookie in 2016. Henry was originally selected by the Chargers in the second round of the draft that season.
Los Angeles could now consider re-signing veteran tight end Antonio Gates, according to ESPN.
Gates, an eight-time Pro Bowler, accumulated 11,508 receiving yards and 114 touchdowns over his 15 seasons with the Chargers.
But, Los Angeles elected not to re-sign Gates in the offseason and he is currently a free agent.