Newton stars as Panthers beat Dolphins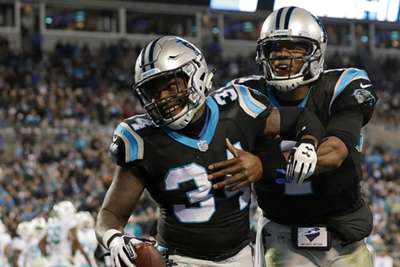 When Cam Newton is having fun, the Carolina Panthers are a dangerous team and they proved that in a 45-21 win over the Miami Dolphins.
Newton and the Panthers had plenty of fun as they defeated the Dolphins in NFL action at Bank of America Stadium on Monday.
The Panthers (7-3) turned in perhaps their most complete game of the season with a balanced offense and stifling defense, albeit against the NFL's worst attack. 
As frustrating as it was for the Dolphins (4-5), who had a hard time establishing anything against the league's top defense, the Panthers — and especially Newton —were a loose bunch. They shared the load Monday with four different Carolina players finding the end zone. 
Coming off a disappointing 6-10 season, the Panthers have now won three consecutive games entering their bye week to keep pace with the red-hot New Orleans Saints (7-2) in the NFC South.
The Saints beat the Panthers in Charlotte in week three and Carolina will have their shot at revenge on December 3. 
PANTHERS HAVE REDISCOVERED THEIR IDENTITY
Run the ball and let the defense dominate. That is what got the Panthers to the Super Bowl in 2015, when Newton made plays with his right arm and legs. That formula worked to perfection on Monday and is what the Panthers have been doing during their three-game winning streak.
Newton threw for 254 yards and four touchdowns and ran for another 95 yards. Jonathan Stewart had 110 yards on 17 carries as the Panthers rolled up 294 rushing yards against the NFL's seventh-ranked rush defense. Newton had the biggest run of the night, busting off a 69-yard run immediately after the Dolphins scored on a 66-yard Kenyan Drake run. 
NOT HAVING BENJAMIN MAKES NEWTON A BETTER QUARTERBACK
Kelvin Benjamin was Newton's security blanket and not having the 6-5 receiver forces the latter to spread the ball around. Newton completed 21 of his 35 attempts to seven different receivers. He would have had at least three more completions had it not been for drops by Russell Shepard and rookie Curtis Samuel, who left after a third-quarter drop with an ugly left ankle injury.
Newton's four touchdown passes were to three different receivers, including a pair to Devin Funchess. The third-year receiver from Michigan finished with five receptions for 92 yards and a 32-yard touchdown early in in the fourth quarter that put the game out of reach.
SHORT PASSING GAME IS MIAMI'S BEST RUN OFFENSE 
Miami have the NFL's worst offense, with the third-worst ground game. They ran for 100 yards on Monday, 66 of which came on Drake's touchdown run, as the Panthers defensive front, led by Kawann Short, dominated.
That was the first rushing touchdown of the season for the Dolphins, who did not have a run longer than five yards on Monday until there were six minutes remaining in the first half. While they could not establish the ground game, the only time Miami were able to sustain a drive was when they used a series of short Cutler passes to nickel-and-dime the Panthers defense. The result was a 10-play, 75-yard drive that ended with a two-yard shovel pass to tight end Julius Thomas.
When Cutler did push the ball downfield, he was unable to connect and finished 22 of 37 for 213 yards. An acrobatic interception by Panthers linebacker Luke Kuechly was on a 15-yard pass downfield and set up a Carolina touchdown before half-time.